Our story
Learn more about our history, our factory and our people.
How it all began
We began our brush making life in the 1850s in Rathbone Place, just off London's Oxford Street. Here we built our art brushes by hand from natural hairs, metal ferules and turned wooden handles. As the business grew we moved to a larger site in Wealdstone on the fringes of London. After the war, labour was in short supply and in 1946 we opened a second brush making factory in Lowestoft, on the Suffolk coast. This was an ideal site as there was a real need for jobs in the area and many local people had net mending skills which could be transferred to tying knots for brushes. Several members of the London team moved out to Lowestoft to set up, train and develop the new work force, passing on the knowledge in true Crown style.
This link with the past continues. Our current Senior Brush Operative, Tina Rumbal, was trained by Bob Harrod who joined us in 1969 before retiring in 2017. Bob in turn began his apprenticeship under the watchful eye of master artisan Percy Simms, who joined Crown in 1926 and went on to work for the company for 51 years.
Our production processes
Today we produce over 25 million brushes a year, specialised for the fine art, education, craft, hobby and cosmetics markets. Traditional brush manufacturing techniques continue alongside modern machine-automated methods, using all kinds of natural and synthetic materials so that we can offer our customers a huge array of options. From creating own label brushes for some of the world's most prestigious fine art brands, to one-off batches for beauty pop-ups, our creative and innovative approach combines with unparelled experience, allowing us to answer each brief effectively, to budget and timescale.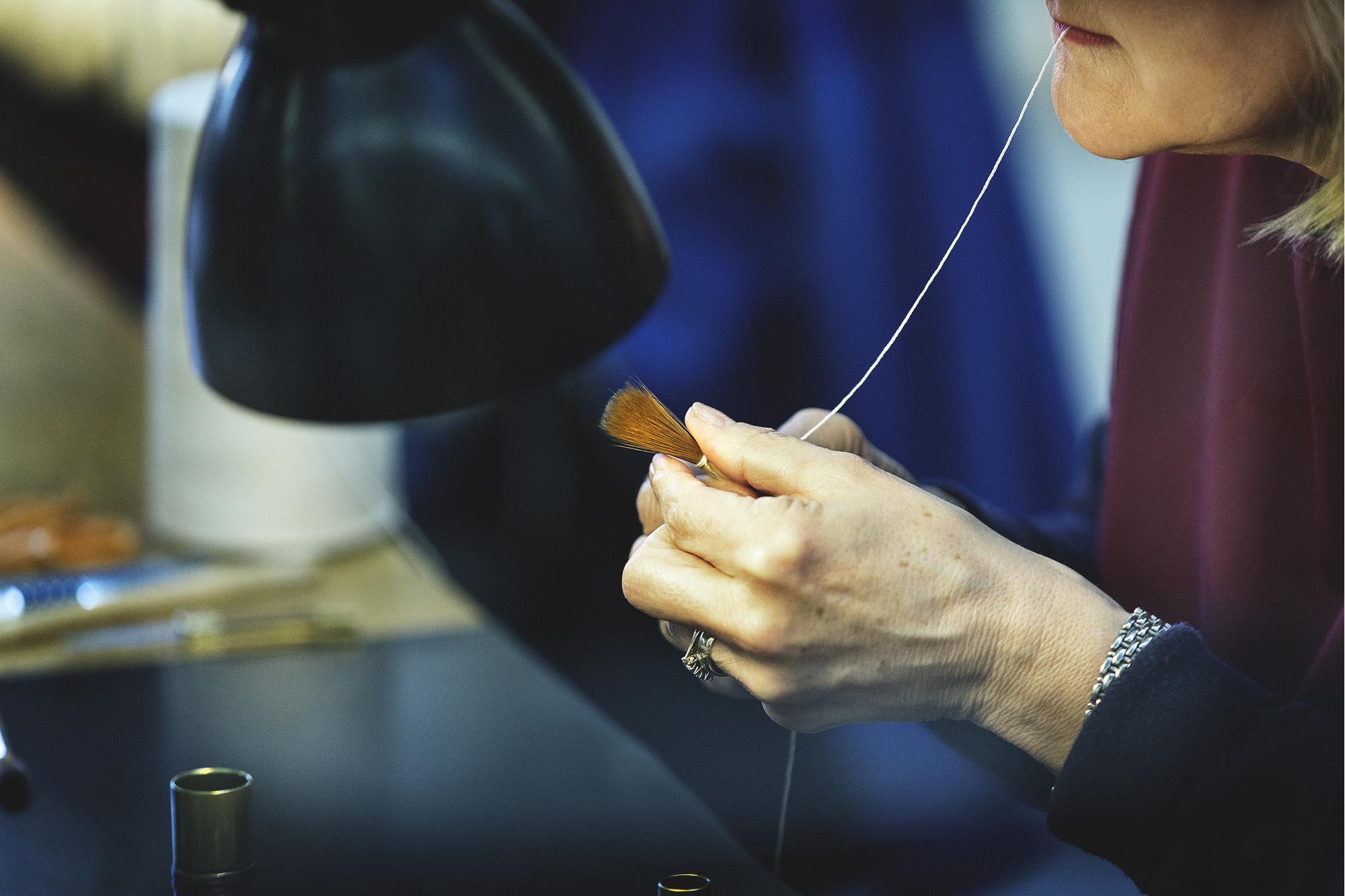 The magic of handcrafting
Sable brush heads are still made individually by hand, using traditional methods handed down from one generation of craftsmen and women to another. Not only does it require dexterity and speed, but knowledge and experience in picking out the finest hairs. Only the most skilled makers work on the finest brushes and the average length of training for a Crown sable maker is three years. Possibly the most famous of our brushes is the Series 7, made for Winsor & Newton. It was created in 1866 when Queen Victoria ordered the very finest kolinsky sable water colour brushes in her favourite size: No.7. The Series 7 is now widely regarded as the finest water colour brush in the world.
Whilst the key element of any brush is to make sure the filament performs to the artists' requirements, other components play a part in its success. The quality of both handles and ferrules is vital to creating the necessary balance in use. At Crown, we use only the highest quality of components to compliment the working filaments. Depending on the brush, our production methods range from hand assembly to machine assisted automation, all completed on site in Lowestoft.
Our team
The success of Crown Artist Brush is strengthened by the commitment from every employee. Many of our brushmakers have been honing their skills for almost 50 years and in that time they've become unsurpassed in the art and quality of what they do. Most started their careers as young apprentices and instantly fell in love with the profession. Using their expertise, we ensure that only quality products are produced to the highest level. From our apprentices to our most seasoned experts, the traditions of brush making are transmitted.